Our Professional Cannabis Chef Payton Curry, Culinary Institute of America, Hyde Park Graduate
It doesn't take long, surveying the parade of guests arriving at the exclusive Big Game Big Give charity bash at Matt and Erika Williams' 20,000-square-foot estate on north Invergordon Road, to realize this is not the Paradise Valley Super Bowl party George Clooney was rumored to be attending.
Although there are a few practicing Democrats topping the list of well-heeled philanthropists attending the invitation-only, $2,500-per-head party benefiting a variety of charities – headlining actor Mark Wahlberg, TV correspondent Maria Menounos, a couple of others – the guest list appears overwhelmingly Republican.
Cindy McCain is among the first to cross the red carpet leading to the mansion owned by the retired Diamondbacks third baseman and his former news anchor wife. Draped over the driveway, the carpet is flanked by the Budweiser Clydesdales, no doubt corralled by the Anheuser-Busch distributorship heiress herself. Other GOP politicos and major Republican campaign donors follow: Governor Doug Ducey and his wife Angela; Senator Jeff Flake and former Senator Jon Kyl and their wives; Arizona Cardinals president and noted RNC backer Michael Bidwill; Walmart heir Melani Walton. Even the visiting Hollywood dignitaries lean anomalously conservative. Is that Jerry Bruckheimer?
Against this moneyed conservative backdrop, Ira Gaines fits right in. A big, friendly wheeler-dealer who seems to attract a painful amount of affectionate back-slaps at his perch on the couch in the front courtyard, Gaines is known as a generous deep pocket who made his killing in the illiquid asset market, buying undervalued interests from desperate sellers and flipping them for a profit. Gaines bounced back from a series of civil lawsuits — and even a securities fraud charge filed by the Securities and Exchange Commission in 2004 — and now atones by donating copious amounts of money to causes that capture his passions.
"Selling illiquid assets turned into a very lucrative business," says the 66-year-old former copper wire salesman from Long Island, who moved to the Valley some 40 years ago. "Which has enabled me to donate a lot of money around town, and," he adds, with a satisfied smile, "coast through life!"
Most of his favorite causes comfortably mesh with his solid Republican party affiliation. "I'm a real big supporter of Sheriff Joe," he admits, pulling up a New York Times story on his smartphone that mentions Gaines as the donor behind the 200 pounds of popcorn Arpaio planned to serve to inmates on Super Bowl Sunday. "He can do no wrong in my book." Some of Gaines' causes are charmingly bipartisan: Gaines was one of the primary benefactors funding Scottsdale's popular Butterfly Wonderland, and the upcoming 16-acre OdySea Aquarium.
But recently, Gaines has been contributing to one business endeavor that seems curiously at odds with his conservative political bent: marijuana production. Quietly, his company, secondary market liquidators Peachtree Partners, has been helping to finance marijuana grow facilities for operators who cannot obtain mortgages, and backing a Scottsdale entrepreneur named Ferrel Raskin who's putting THC on edible strips.
"As a businessman and as a philanthropist, I am very pro-marijuana," Gaines proclaims, with surprising candor. Like former Arizona District Attorney Mel McDonald, a Mormon Republican who served as a Reagan-appointed federal prosecutor in the '80s War on Drugs but reversed his views on marijuana after a tragic accident left his son in need of the plant to quell seizures, Gaines has personal reasons for supporting the herb. "My office manager's daughter has MS, and marijuana has been helpful to her," he says. "The daughter also works in my office, and," he pauses, thoughtfully, "it's working."
Gaines' wife, Cheryl, attests to the power of pot in helping the young office worker they've taken under their wing. "She's a beautiful girl – 18 years old, but she can't even attend college because she has seizures at any time," she says. "Since she's been using the marijuana, she's been much better."
Surprisingly, Gaines says many of the people he runs with in these social circles are on the same page regarding medical marijuana, including marijuana derivatives like cannabidiol, or CBD, an oil derived from the cannabis plant that doesn't produce the highs of tetrahydrocannabinol (THC), pot's main psychoactive ingredient, but has been found effective in treating a variety of conditions, from autism and epilepsy to post-traumatic stress disorder.
"I know about 30 of the people here," he says, surveying the crowd as if looking for red eyes among the blue bloods. "And I happen to think that they are [in favor of medical marijuana]. Everyone I know is really pro-marijuana."
"It's because it's for the veterans, too," says Cheryl, tapping into what she feels is the real driver behind the sea change in attitude: the bipartisan desire to help returning American veterans. "It really helps with PTSD, and they need to have it, seriously. With what they've gone through," she trails off, as Marcus Luttrell, the former Navy SEAL portrayed by Wahlberg in the 2013 movie Lone Survivor, is cheered onto the tall stage set up on the lawn. "That's why we're able to be here to enjoy this event."
In the city that birthed 2014's Veterans Health Administration scandal, veteran aid has become a particularly hot cause of the Valley's philanthropic class.
That's why even unlikely allies in the business community have been quietly expressing their support for Dr. Sue Sisley, the University of Arizona professor fired last year in a political battle over her requests to tap the $9 million in surplus money received from dispensary and patient application fees, accumulating since Arizona voters passed the Medical Marijuana Act in 2010, to fund her research into the benefits of using medical marijuana to treat PTSD.
Sisley has since secured a $2 million grant from the state of Colorado's medical marijuana program surplus fund to continue her research, and is still appealing to Arizona State University to bring her program to its campus. (So far, the school's response has been non-committed. "We are looking at her research," says ASU's media spokesperson Kevin Galvin, who then adds, "There are a number of faculty members at ASU already engaged in research related to PTSD.") In the meantime, she's been hearing from hosts of private businesses and investors who've come forward to offer her space (and sometimes product) to use in her research.
"A lot of donors have come out of the woodwork, some preferring to stay under the radar," Sisley says. Many of these secret benefactors – including the founder of a giant publicly-traded Tempe tech company who declined to be interviewed for this story – have been reluctant to publically "come out" as marijuana supporters, as there are still powerful political elements in Arizona vehemently opposed to it. Senator Kimberly Yee, in a statement last April explaining her decision to bar Sisley from using the surplus money, clarified the concerns of her constituency: "As policymakers, we have to ask if this takes us down the path of legalizing the recreational use of marijuana in Arizona."
Link - Weed MD/Medicinal effects of common marijuana, strains and preparations/PDF
But a handful of angel investors in Arizona's burgeoning medical marijuana business are beginning to emerge from the shadows – although, as Sisley admits, the first have been the obvious suspects.
"I mean, as you can imagine, all of the marijuana dispensaries have offered me space, as well as free marijuana! But I can't take any of that, because we're not allowed to use state-level marijuana anyway," she adds, noting the stipulations of the government grant require her to purchase study drugs from the National Institute on Drug Abuse (NIDA) growing facility in Mississippi. "And besides, I wouldn't want the optics of being inside a dispensary."
Sisley says there's been plenty of anecdotal evidence that marijuana can reduce symptoms of PTSD, like disturbed sleep and hyper-vigilance. Last June, a study by the American College of Neuropsychopharmacology on lab rats using synthetic cannabinoids even found it can help calm the brain centers associated with the storing of traumatic memories (in the rats' case, a strong foot shock).
But so far, there's been no serious scientific study on the effectiveness of marijuana in treating PTSD in humans, even after the Arizona state health department added PTSD as a qualifying condition for a card in January 2015, which Sisley sees as irresponsible.
"There are some strains of marijuana that might actually be detrimental for PTSD, and I'm a little stunned that the state health department was intellectually backward enough to add that without doing the studies," she says. "I don't believe that we'll ever be able to study the efficacy of this plant in an atmosphere of prohibition."
Still, Sisley is set on continuing the research in Arizona, where her work has already won the fervent support of the state's veterans community. To study it properly, and to finalize her approval from the FDA's institutional review board, Sisley needs a well-ventilated lab space like the one Baltimore's prestigious Johns Hopkins University has already offered her.
 So far, however, her best offer in Arizona has come from Weed Depot, a website business offering an app that provides a geo-targeted map directory of legal dispensaries, pot-friendly doctors and ancillary businesses within the rapidly growing marijuana industry. Weed Depot invited Sisley to set up shop near its Scottsdale Airpark office, where it runs websites for other fledgling pot-related enterprises, including Joint Lovers, a dating site connecting people with "joint interests," and Miss Marijuana USA, a planned national pageant competition that will judge activism in the fight for legalization along with how the contestants look in a hemp bathing suit.
"That's exactly what I want to avoid," she says, laughing. "I'm not part of the industry. I don't own dispensaries or write certifications. I've never even tried marijuana, and I have no interest in using it recreationally. I'm a scientist; that's all I care about. So I'm not sure I'm going to accept that building. I insist on keeping an arm's length from the industry."
The owner of WeedDepot.com — and JointLovers.com and MissMarijuanaUSA.com and thousands of other marijuana-related domains — is Howard Baer, a 73-year-old former investment banker who made his first fortune in IPO trading and reverse takeovers and his second fortune in the Internet domain aftermarket, buying up speculatively desirable domain names and then reselling them at a sizable profit. "I bought politics.com in 1998 for somewhere around $18,000, sold it a few years later for $275,000," Baer says. "Right then I decided stocks are great, but this was better!"
He's now focused on snatching up every domain name remotely attached to marijuana, which Baer predicts will become a billion-dollar industry in the next few years. This time, besides just selling domain names, Baer is also offering website design and hosting services through his parent company, Northsight Capital, which occupies a Google-y, colorfully furnished oasis inside a drab business park property. Baer is still holding a space in the building for Sisley's research, in case none of the more academic sites she's approaching pan out.
"I saw what was happening and said, 'Somebody better put a lock on this industry, because it's gonna explode one day,'" says Baer, who swears he doesn't partake in the Mary Jane himself ("Bad ticker," he says, pointing out his pacemaker, "but when I was younger I did!"). Already a rival company, Weedmaps, has opened up virtual shop on marijuana.com (the site now draws an estimated two million monthly visitors and reports annual revenue of $18 million). But Baer feels the party's just starting.
"I grew up in Boston, and I saw the computer revolution coming up in Cambridge," he says. "I was a young kid back then, on the outside looking in. This time, I'm getting in on the ground floor. This one is gonna take off screaming, the liquor industry is going to want to buy in – they're already snooping around – and anyone who gets in on the early stages and sticks to a game plan is going to do very, very well."
If there's a common thread among the benefactors investing early in marijuana, it's that most of them come from businesses that have been tainted with controversy before. For Baer, his success with reverse takeovers was stigmatized by general news reports tying the practice to angry shareholders and weakened companies, and the domain aftermarket business quickly became linked with cybersquatting. For Gaines, his particular genius with "mini-tending" (buying small stakes in publicly traded companies at prices well below market) was eventually reined in by the Securities and Exchange Commission, which enjoined him from further working with equity securities.
For Peter Ax, managing partner of Phoenix Capital Management, his brush with controversy came with his 2001 purchase of the online pharmacy KwikMed, whose previous owners were criminally prosecuted for writing prescriptions on the Internet without a valid physician on board. Ax, a former senior V.P. at Wall Street's Lehman Brothers, spun the enterprise as an instrument to reduce the cost of health care. But critics couldn't help but note that the majority of drugs sold on the website were for the treatment of erectile dysfunction.
In short, Ax was already used to hearing the snickers from detractors after getting into the Viagra business. So he's not too worried about hearing the jokes that may follow his public announcement, which he says he's revealing first to PHOENIX magazine, that he's planning to invest in marijuana grow facilities and dispensaries in 2015.
"I think a few years ago people might have joked about this stuff," he says. "But every meeting I've had on this about raising outside capital to do a deal, talking with extremely prominent institutions and people, has been pretty serious. I think we all recognize what's happening. The world is changing. Attitudes are changing."
Ax acknowledges that right now, the early players in the game are mainly businesspeople who don't mind getting their hands dirty.
"There's two types of people out there now," he observes. "There's guys who are out there on the forefront putting these deals together, and they're busy raising money through the other guys: the people who don't want their names mentioned. Our attitude about all this is, we are not fearful of engaging with regulators, commissions, consumers, attorney generals. We're not fearful of having a transparent and open dialogue about a business model that is sensible and that consumers want. And that sometimes brings us into controversial areas."
Phoenix Capital is not entering into the arena lightly. Ax says his firm has been studying the industry for the past six months, looking at the licensing processes, state and federal laws and even exploring the peripheral businesses. "If we decided not to get into plant activities, would we want to own the lighting systems, the water systems, the real estate?" he says. "The cannabis market will be substantial enough that there will be all this other infrastructure needed to support it over the years. And we're looking at all aspects of that."
Ax believes the more timid business types will eventually follow his path. "You know what you find in industries like this? In the first few years that you work in these more risky, edgy-type businesses, you see sort of non-professionals at first making headway. And then very quickly professionals look to get in and start running companies and start building businesses around this stuff. Already you're starting to see professional managers, more sophisticated people move into the space. You're starting to see capital flow into the space."
Some professionals, however, have been getting into the business for reasons that go beyond profits. J.P. Holyoak is a financial advisor by trade, and a conservative Republican, who says he's never smoked pot and has never been too fond of the crowd that does.
"I'm not a guy who comes from the marijuana world, that culture that's existed for a long time," he says. "I was afraid to even say the word 'marijuana' out loud. This was a word that, in polite company, you could not mention without a whisper and a look around behind you to see who was listening."
Nevertheless, about two years ago, Holyoak became one of the first 486 Arizona residents to secure a state-issued license for the right to operate a medical marijuana dispensary here. He says he got into the business purely to help his 6-year-old daughter Reese, who suffers from a rare neurological disorder called Aicardi Syndrome, which caused her to experience debilitating seizures 25 to 35 times a day, each of them lasting from 8 to 12 minutes.
"We'd been on the pharmaceutical merry-go-round, we'd been trying drug after drug to control these seizures. And one day I was reading the paper after the Medical Marijuana Act passed, and it listed seizures as one of the qualifying conditions to obtain a card."
Holyoak did some research on the Internet and discovered others had experienced success treating epileptic seizures with cannabidiol (CBD), the oil extracted from the cannabis plant. He approached the endeavor like a true businessman. After securing a permit to open a dispensary in a 1,940-square-foot office suite in Peoria, Holyoak actually recruited a plant scientist from Hawaii to come to work for him harvesting CBD, which he had read was difficult to produce.
"I told him, 'You have one job: develop high CBD strains specifically for pediatric epilepsy, and specifically for my daughter.'"
It worked. "Her seizure frequency has gone from every day to maybe once every month or couple of months," Holyoak says. "Prior to cannabis, she was not able to walk at all, and was barely able to stand on her own two feet. Today, she's walking independently. She's happier than she's ever been, and she surprises us every week."
He now has a second dispensary, in Cave Creek, and sells his special strain of cannabidiol, christened Reese's Peace, to other families with epileptic kids. "We only make Reese's Peace available to special-needs kids, simply because I can't keep up with the demand for it, and they have to come first."
Holyoak bristles when he hears people talking about the economics of the industry and focusing only on the dollars being made.
"That's not what this is about," he says. "It's about the positive impact that marijuana is having on these patients' lives. If you could hear the stories of the people who've been helped by this, there would never be a shred of doubt that this should absolutely remain available to them. And it's a crime that it hasn't been available sooner."
Understandably, Holyoak is harshly critical of marijuana naysayers like Maricopa County Attorney Bill Montgomery, who has been trying to prosecute patients for possession of marijuana extracts, which he claims were not officially legalized under the voter-approved Medical Marijuana Act.
"To take marijuana away from my daughter would be the equivalent of coming into my home and beating her over the head with a baseball bat until she goes into convulsions and seizures again," he says, powerfully. "It would be the same net effect."
With his energetic vibe and curly surfer locks (which he says he occasionally shears to make wigs for kids undergoing chemo), Payton Curry is the Valley's face of mainstream marijuana – the furthest thing from its secret benefactor. A well-known Valley chef who runs the popular Old Town Scottsdale eatery Brat Haüs, Curry has lately been cooking with marijuana extracts, ruled legal for medical use in Arizona last March.
The 35-year-old restaurateur, who carries a medical marijuana card to treat clinical anxiety, has been fearlessly high-profile about his work with cannabidiol, which he uses to help families with autistic or epileptic children cook nutritious "medibles." Last August he officially came out as a medical marijuana supporter by delivering a funny, well-received TED Talk on what he called "Weediatrics" (he's big on puns), describing some of the healing benefits of CBD as well as his morning smoothie (kale, turmeric, black pepper and cannabis leaves). In January he presented a cannabis cooking class at the Le Cordon Bleu culinary school in Scottsdale, combining his training from New York's Culinary Institute of America with his unabashed love of the plant.
Recently, Curry initiated a partnership with the Epilepsy Foundation of Arizona, where he will be providing free cannabidiol (through a grower friend) for the foundation, which nationally endorses cannabis, to administer as treatment. Up until now, the small staff has had to muddle through the intimidating mix of growers in Arizona. "There are dispensaries and there are dispensaries," says Suzanne Matsumori, the foundation's executive director, with a dark chuckle. "So we're grateful he reached out to help."
While Curry clearly loves partnering with prominent organizations to advance his efforts, he generally avoids overtures from business investors who, more and more, express interest in backing his enterprises – although he did accept office space in Baer's Northsight Capital building, and provides content for one of Baer's websites, MarijuanaRecipes.com.
"It's like opening a restaurant," says the career chef. "You're either the talent or you're the wallet. In the cannabis business, what's happening now is the talent is growing, and the wallet is going, 'Wait! Waaait!'"
The animated Curry is standing up now in the conference room at Northsight Capital, waving his arms frantically. At the other side of the table is his friend Tyler Burke, who operates one of the city's most respected grow houses, Sunflower Meds in southeast Phoenix.
Like Curry, Burke is a recognizable face to local foodies. The International Culinary School graduate was featured on a season of Iron Chef America in 2009. And like Curry, Burke sees the mainstreaming of marijuana as a chance for the preparers to shine – a kind of Revenge of the Short-Order Fry Cooks. For all the Jeff Spicolis who ever worked at the All American Burger before going home to cultivate that evening buzz, this is their moment.
"You have two guys like us, making $8.50 an hour at the salad station," Curry says. "Suddenly we're making salad for 80 grand a year. And the wallet's going, 'How do I get in on that?' There are young people now who are doing things with cannabis that would blow your mind. It's a real industry. But they're doing it without the wallet."
Already there is huge national demand for cannabidiol, sparked largely by the success of a strain developed in 2009 by five brothers in Colorado to help a then 5-year-old cousin named Charlotte deal with her epileptic seizures brought on by Dravet Syndrome. Dubbed "Charlotte's Web," the high-CBD strain took off after being featured in a 2013 CNN documentary by Sanjay Gupta, formerly a major critic of medical marijuana. As of last October, Colorado Springs' Stanley brothers reported more than 12,000 families were on a waiting list for the crop.
Curry says a lot of those families are now looking at Arizona. "I know of about 11 families who are moving to Arizona – some from Ohio, Nebraska, West Virginia. And they're all coming this way because Arizona is one of the leading states in cannabis growing. We've got some 80,000-square-foot grow facilities here. It's as professionally done as any other vegetable-growing business."
For Burke, who confesses he sold weed illegally for 15 years and grew it for 10 (without a conviction) before being approved by the Arizona Department of Health Services to legally cultivate medical marijuana, the opportunity to finally go legit is clearly liberating.
"I've grown this signature strain, illegally, for six years," he says. "It's a highly medicinal strain I started from seed, a kind of Harlequin crossed with Granddaddy Purple. Kind of my little claim to fame. It's what helped me build my name. It allowed me to make money, set myself up.
"But this is the first time I'm going to sell it legally to patients," he continues. "Finally I can be proud of it. Finally I get to just," he leans in, and pounds his chest, "Yeeeah!"
Burke likens the momentum behind medical marijuana to a wave, and pledges to pull all his bud-friendly buddies along with him before it crests.
"We don't get to leave those people behind," he says, passionately. "We get to bring them all together as one. I've got a guy that I used to work with 10 years ago. We met in the kitchen. He was the first guy I ever grew with. He's probably going to be my extractionist."
That's the kind of industry Curry would like to see. "It's guys like us investing some money and then being able to tell our friends, 'Hey, why don't you come on board? I can put you on payroll now!'"
"It's empowering to finally have confidence in this," adds Burke. "We finally get to take what we've been doing in the dark and do it in the light."
PM
 
About Payton Curry
 Ryan Van Velzer, The Republic | azcentral.com11:26 a.m. MST June 9, 2014
Executive chef Payton Curry knows how to make a vinaigrette good enough to give any junk-food loving schlep a taste for kale, collared greens and rainbow chard.
What his special ingredient? A little Mary Jane.
Curry, Brat Haüs owner and Culinary Institute of America graduate, has turned his talents toward helping medical-marijuana patients learn how to prepare their own treatments. Crafting tinctures, salves, skin creams and smoothies, Curry is a modern-day apothecary combining his talent for cooking with a desire to teach people about the benefits of medicinal marijuana.
"I'm looking at making peoples' lives better and healthier and more enjoyable by teaching them how to make this stuff at home," Curry said. "I'm talking about full plant extraction. I'm talking about using the fiber and the stalks and using cannabinoids in the leaves."
The goal, he said, is not necessarily to help patients get high. Although those effects are helpful for patients dealing with certain types of chronic pain, Curry also teaches clients to make use of other parts of the marijuana plant.
Combining marijuana leaves and plant fibers with pork fat, eucalyptus, lavender and other oils, patients can make topical ointments that soothe without giving a buzz, said Curry, noting that people have cannabis receptors over their entire body.
"This is about making lotions, salves and drinks and juices for people so they can get up and go work or get up and move around their home instead being confined to a couch," he said.
So far, Curry says, he has helped about 40 families. He offers services free of charge for patients suffering from such debilitating illnesses as cancer, epilepsy and Crohn's disease, the catch is that they must already possess a medical-marijuana license and the product.
Curry provides the food and the knowledge to teach patients how to make the recipes themselves. For those who need more protein, Curry teaches them to make pot-laced nut butters. For micro-nutrients, he teaches his clients to make marijuana-infused smoothies with kale, raw turmeric and cashews.
"I apply science, proper ratios and procedures. As a culinary-school graduate from the CIA, we have to understand the ins and outs of food," Curry said. "We don't try to play dietitian, we just try to make the relationship between food and medicine a little bit easier."
Finding the right proportion
But what is the proper proportion? New York Times columnist Maureen Dowd, found out the hard way last week when she ate too much marijuana-laced chocolate in her hotel room on recent trip to Denver. She ended up stoned, paranoid and existential (she started considering the possibility she might already be dead).
"Fifty milligrams of any kind of edible, that's one dose," said Kathy Inman, state director for the marijuana-advocacy group NORML. "If they are a light taker, it's 25 milligrams, if they don't want to take too much."
Dowd didn't follow the recommended amount, Inman said, and she also didn't mention that no one has ever died from a marijuana overdose, adding that opiates are responsible for one death every 20 minutes in America.
"It's not a risk because nothing will happen to them, they will sleep for a long time but they aren't going to die," Inman said. "The information isn't out there and we need to make it plain to see. Then people can learn to be skillfully doing this for themselves."
Inman, who also works at a medical-marijuana dispensary in Fountain Hills, said it's important patients not only take the right amount, but that they find the right strain of medicinal marijuana to treat their symptoms.
Researching nutrition and diet
"Just because something is natural doesn't mean it's good," said Professor Dean Chiarelli at Arizona State University, a registered dietitian nutritionist and certified health-education specialist.
People must understand that marijuana is a pharmaceutical just like any other, and it can have negative effects when paired certain foods and pharmaceuticals, he said.
Although most nutritionists won't promote medical marijuana as an alternative therapy, there is a general consensus in the field that it's acceptable when used in conjunction with other doctor-recommended medicines and therapies, Chiarelli said.
He recommends that medical-marijuana users research nutrition and diet for themselves before making the decision to trust doctors, nutritionists or such individuals as Curry.
"Anyone in Arizona can call themselves a nutritionist," Chiarelli said. "Is a chef qualified or not? Well, that's a good question in a state that has no licensing."
Promoting healthy living through medical marijuana
For the moment, Curry is only assisting patients on a case-by-case basis through his consulting firm, Curryosity Consulting, which is not affiliated with either of his restaurants.
As his consultation grows, Curry may begin charging for lifestyle consultations that would include comprehensive diet regimens.
"The end goal is to have a hospital where I am in the kitchen making food, the doctors are taking care of the families, the patients are there, but we are organically growing the medicine on site with solar power. This is going green to the fullest," he said.
Medical-marijuana cardholders interested in learning from Curry can contact him at payton_curry@yahoo.com.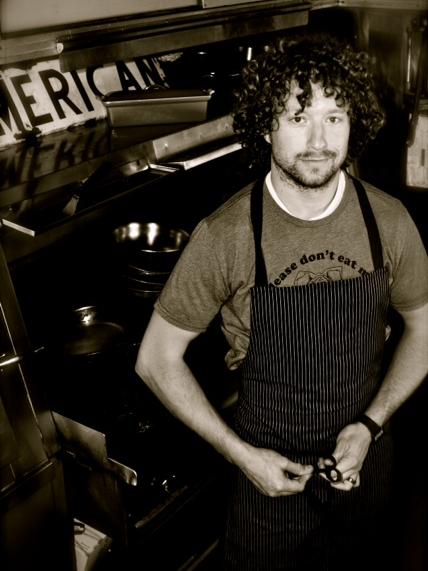 Well-known Scottsdale chef Payton Curry has a new ingredient on his menu — marijuana.
Curry, owner of the Brat Haus and Tacos Haus restaurants in Scottsdale, isn't serving marijuana at his restaurants.
But the chef is helping others obtain their medical marijuana cards from the state. Then he teaches them how to cook healthy recipes utilizing marijuana.
Curry teaches medical marijuana cooking classes on how to make what he calls "medibles," or medicated edibles.
He believes extracts are a better way to utilize marijuana. "I don't want people to be smoking if they have concerns about lung problems or carcinogens," Curry said.
He shows people how to make smoothies with medical marijuana and other pure, healthy substances such as honey instead of corn syrup. Curry also show patients how to make these recipes to help them get back to a healthy lifestyle and get their appetite back.
Curry said years ago he was severely overweight from his drinking habit. He stopped drinking and switched to medical marijuana for his needs. Curry said he lost weight and ultimately became healthier.
Curry trained at New York's Culinary Institute of America, interned at the Four Seasons in Singapore and was notorious for serving rabbit on Easter Sunday at Tempe's Caffe Boa. He's also a strong advocate for organic and locally grown ingredients.
Curry strongly endorses the use of medical marijuana and even supports his employees in helping pay for their cards. He said medical marijuana can help with the symptoms of cancer, Alzheimer's, Epilepsy and has other medicinal properties. He has even created a lotion for his wife that she puts on her arms, elbows, and uses as a makeup remover. "It's not to make your elbows stoned. It's the medicinal qualities of the marijuana," said Curry.
Curry's classes come on the heels of a March Maricopa Superior Court ruling that decriminalized marijuana extracts for medicinal purposes. Extracts are used to incorporate marijuana into edible products.
Medical marijuana users can now have a taste of their prize without receiving criminal repercussions.
In November 2010, state voters narrowly approved Arizona Medical Marijuana Act legalizing medical marijuana. However, extracts were not specifically included in the Arizona measure.
Suzanne Sisley, a medical marijuana advocate and an Arizona State University professor and researcher, said the decriminalization of medical marijuana extracts is an important step for patients
Sisley said that extracts, edibles, and vaporizations are better for some patients than smoking. "We don't want our patients smoking if we can avoid it," said Sisley, adding that smoking can be hard for some patients — such as the 50 pediatric patients who have cards in Arizona.
"The main point is patients who are sick need to have options," said Sisley.
She researches medical marijuana that is approved by the FDA and mental health services at ASU, including clinical trials on treating veterans with post-traumatic stress disorder.
Although extracts have been legalized on the state level they cannot be used in medical marijuana research, Sisley said.
The next step for marijuana advocates could be a 2016 legalization measure akin to those passed in Colorado and Washington state, where the use of small amounts of marijuana for recreational use is legal.